Message
Putting to good use our real estate industry experience, we provide valuable assets in Tomakomai.
Upon entering adult society, I went to work in the real estate industry. While introducing people to assets known as "real estate," I came to think about the questions "For the customer, what is a truly valuable asset?" and "What is a home that can truly satisfy the people living in it?" As someone who had come to understand the importance of assets, I was confident that I could propose something more than just "real estate" with passion. Those thoughts led me to the decision to start an architecture business.
We believe that our most important mission is to provide the customer with a building that has true asset value and to do this by putting to good use the knowledge, experience, and personal connections that we have cultivated and expanded over many years in the industry. In the years ahead, we will continue to strive constantly to carry out this mission.
Origins of our company name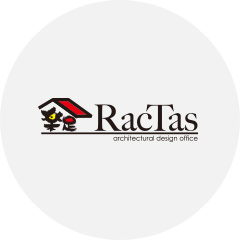 When starting to think about owning their own home, everyone should feel an excitement filled with dreams and expectations about the kind of design they are looking for and the kind of life they want to have. In the homebuilding process for our custom homes, Atelier RacTas places great importance on such feelings all the way to the end. The reason for this is that we believe that if the time spent creating the home is enjoyable, after moving in, life in that home is certain to be even more enjoyable for a long time to come.
The "RacTas" company name is a combination of the Japanese words "raku" (meaning "comfort" and "enjoyment") and "tasu" (meaning "bestow" and "add"). This name embodies our strong desire to add a whole new level of enjoyment to the homebuilding of our customers.