RacTas apartment (multi-unit dwelling) management
Stylish rental apartment buildings
that are superior over the long term.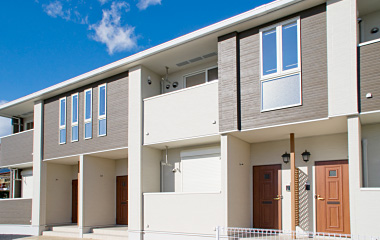 Trustworthy design and construction that increases asset value.
Highly original space design with an awareness of current trends.
RacTas rental apartments achieve a high level of excellence that satisfies both the owner and the tenants.
Why are rental apartments with superior designs now attracting attention as investment properties?
With the contraction of rental demand due to the population decline and with the diversification of how people perceive value, the acquisition of a stable tenant population has become an important issue for property owners. In this situation, strong attention is being given to the higher competitiveness of apartments designed based on the concept of providing highly original, superior-quality living space. By featuring design excellence not found elsewhere and superior livability performance, these spaces satisfy the individual characters and concerns of the people living in them; resulting high popularity and occupancy rates to achieve stable rental-housing management.
The merits of multi-unit dwellings
With multi-unit dwellings like apartment houses, multiple households live in a single building. Merits include the fact that expenses per household are less than a single-family home and, since units share use of the same plot of land, the land cost per household is held down. In addition, multi-unit dwellings are also recommended for people worried about safety from crime and disaster perspectives.
In addition to the design excellence that is, of course, a feature of multi-unit dwellings proposed by RacTas, we also take care to preserve such merits.
Construction area
RacTas apartments (multi-unit dwellings) are built in the areas indicated below.
Tomakomai

Aoba-cho, Akeno-shinmachi, Akeno-motomachi, Akebono-cho, Asahimachi, Ariakecho, Izumi-cho, Ippon-matsu-cho, Itoi, Irifune-cho, Uenae, Usunosawa-cho, Eifuku-cho, Ouji-machi, Omachi, Otowa-cho, Omote-machi, Kashiwagi-cho, Kashiwabara, Kasuga-cho, Kawazoe-cho, Kiba-cho, Keihoku-cho, Koitoi-cho, Koyo-cho, Kotobuki-cho, Saiwai-cho, Sakaemachi, Sakuragi-cho, Sakurazaka-cho, Sanko-cho, Shiomi-cho, Shizukawa, Shimizu-cho, Shirakaba-cho, Shirogane-cho, Shinkai-cho, Shintomi-cho, Shin-nakano-cho, Shinmei-cho, Suehiro-cho, Sumikawa-cho, Sumiyoshi-cho, Seiun-cho, Taisei-cho, Takaoka, Takasago-cho, Takuyu-nishi-machi, Takuyu-higashi-machi, Tarumae, Tokai-cho, Tokiwa-cho, Toyokawa-cho, Nishikioka, Nishiki-machi, Nisshin-cho, Numanohata, Numanohata-chuo, Nozomi-cho, Hanazono-cho, Hama-cho, Hamanasu-cho, Harumi-cho, Hinode-cho, Hiyoshi-cho, Futaba-cho, Funami-cho, Benten, Hokuei-cho, Hokuei-cho, Honko-cho, Honcho, Masago-cho, Matsukaze-cho, Maruyama, Misawa, Misono-cho, Midori-machi, Minato-machi, Mihara-cho, Miyanomori-cho, Miyamae-cho, Miyama-cho, Meitoku-cho, Moegi-cho, Motonakano-cho, Motomachi, Yashiro-cho, Yanagi-machi, Yamate-cho, Yayoi-cho, Yufutsu, Wakakusa-cho